Build your own fully tailored data strategy in as little as
one month!
Simplify, accelerate, and strengthen your data strategy through a powerful combination of proven frameworks, principles, templates, AI prompts, and training - all with unlimited online support. 
Get started!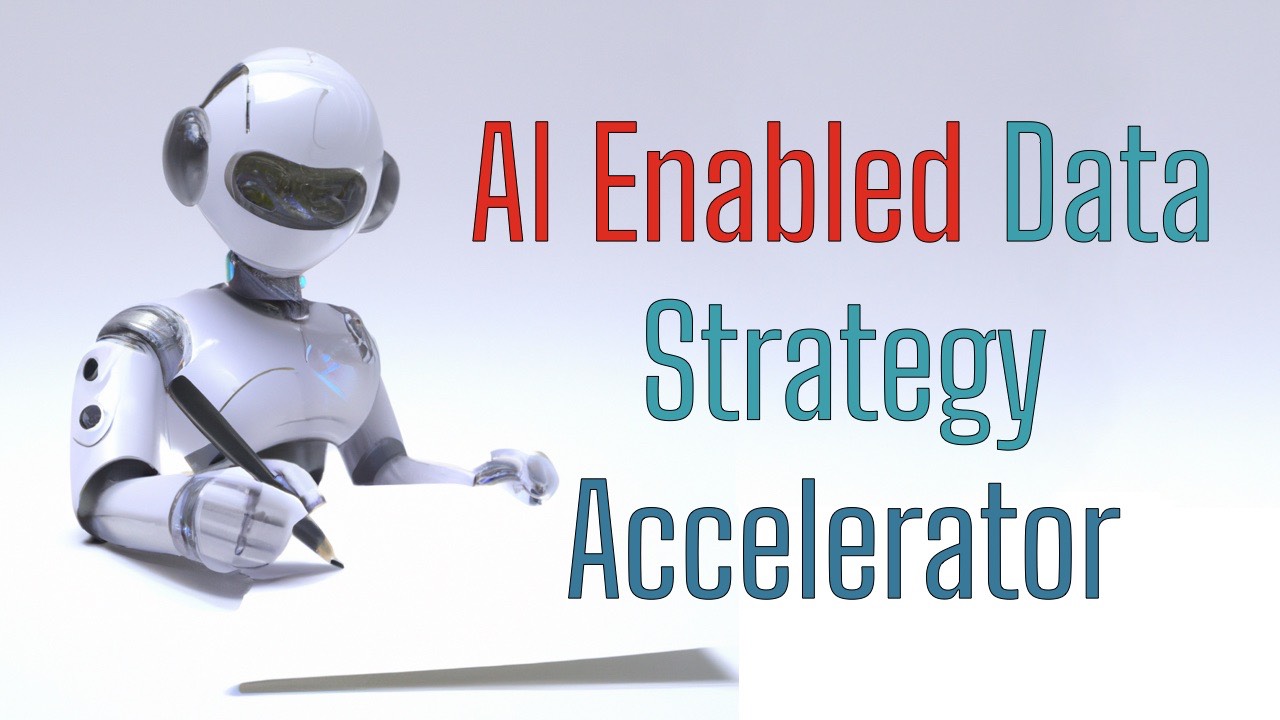 Are you eager to build a data strategy, but struggling to work out how with limited time and budget?
This AI Enabled Data Strategy Accelerator Course will give you everything you need to simplify and accelerate how you'll build a winning data strategy...
Get started!
In this course you will learn...
Why data strategy is essential.
The root causes of 'data-busy'.
The core principles of effective data strategy
What great data strategy looks like.
How to use the 4dDX Strategic Data Capability Framework.
How to get the right people on board.
How to define data goals.
How to build and prioritise data use cases.
How to define the right data capabilities.
How to analyse data capability maturity.
How to compile effective data strategy documentation.
How to plan data strategy implementation.
How to present data capability development roadmaps.
How to kickstart data strategy implementation momentum.
How to monitor the performance of your data strategy.
How to track updates to your data strategy.
And you will get..
All of the knowledge and skills you need to develop your own powerful data strategy.

Tools and templates that will simplify and accelerate development of your data strategy.

Presentation materials which you can customise to match your business's brand, so that your data strategy is easy to communicate and attracts robust stakeholder support.

Your own private copy of the 4dDX strategic data capability framework, which you can hone to suit your unique business's specific needs.

Your own private Miro board, containing everything you need to develop your data strategy and construct a data strategy implementation roadmap.

Community based support, so you can get answers to questions and advice on building and implementing your data strategy.
Get everything you need to rapidly build a completely robust and effective data strategy, and discover how to develop data strategy more quickly, more easily, and more cost-effectively than you ever thought possible!
Four Powerful Accelerators
These are the key ways that this course simplifies and accelerates data strategy development
Principles
and Framework
Providing the launchpad for you to start rapidly developing an effective data strategy.
Document and
Diagram Templates
Which you can use to quickly create and easily document your data strategy.
Engineered
AI Prompts
Which you can use to rapidly generate accurate content for populating your data strategy.
Knowledge
and Information
So you don't waste time figuring out how to use the framework, templates and AI.
Where we've previously developed data strategy
"Phil provided very valuable insight and leadership to help NHBC implement a comprehensive new Data Strategy and Data Governance policies, and to support delivery of high-quality insights from our Enterprise Data Warehouse and related ERP tools."
- Paul Hosking, CFO
How does it work?
Over many years, we've developed numerous data strategies for various large and small organisations. Throughout that time, we've developed powerful frameworks and templates which not only streamline the process of devising data strategy, but also 'bake in' our experience to produce data strategies that are both robust and realistic.
Now those frameworks and templates have become the key to using the power of AI to accelerate data strategy even more, as they've provided us with the ideal foundation on which to engineer effective AI prompts which generate meaningful content for developing data strategy.
The powerful combination of proven principles, frameworks, templates, AI prompts, training, and support provided by this course - makes it probably the fastest, easiest, and most cost-effective way to create a robust data strategy today!
Get started!
The key benefits of this course
It's fast. With the right level of stakeholder involvement, you could get your data strategy completely sorted in about one month.
It's inexpensive. The whole course costs just a fraction of the amount typically required to create a data strategy.
It's effective. The data strategy you produce will use the same framework, techniques, principles and templates that have generated many successful data strategies for other organisations.
It's tailored. This is not a 'cookie cutter' approach. Facts and information about your unique organisation are fed into the process, ensuring that the resulting data strategy is wholly relevant your your organisation's situation and needs.
It's flexible. The framework and templates used are easy to adapt to the requirements and culture of your specific business.
It's supported. You also get lifetime access to a private online group exclusively available to participants in this course, where you can ask questions and collaborate with your peers.
Phil Husbands
For over 20 years, I've been helping some of the world's biggest brands to devise effective data strategy and build powerful data capabilities. I believe that for data to deliver real value for organisations, every opportunity should be taken to simplify and accelerate ways of working with data. A few years ago, I consolidated my experience into a framework that takes the complexity out of data strategy to help organisations to become truly data-driven and not just data-busy.
Rachel Kealy
As a data management consultant and the product owner of our data strategy framework called 4dDX, I specialise in helping organisations of all shapes and sizes unlock the full potential of their data. By leveraging the comprehensive 4dDX framework, I enable businesses to understand, harness, and maximise the value of their data, driving growth and success.
Frequently Asked Questions
Will this use AI to generate my data strategy?
What commitment is required from me?
Are there any prerequisites to taking the course?
Unlimited Online Support
The course includes lifetime access to online support, where you can get your questions answered by data strategy practitioners and your fellow data professionals.
Get started!